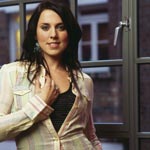 Melanie C was born on January 12, 1974 in Widnes, England, as Melanie Jayne Chisholm.

She started her professional singing career as a member of the British girlband the Spice Girls, where she lived up to her nickname Sporty Spice. The Spice Girls (Melanie C, Melanie B, Emma Bunton, Geri Halliwell and Victoria Beckham) released 3 albums, Spice (1996), Spiceworld (1998) and Forever (2000) and over 15 singles.

In 1999 Melanie C proved she could very well cope on her own by releasing her solo-cd Northern star. The first single Goin' down wasn't a huge hit, but Never be the same again and I turn to you were very successfull.

After the breakup of the Spice Girls, Melanie C released the albums Reason (2003) and Beautiful intentions (2005). Her album This time was released in the Spring of 2007.

In 2009 Melanie C became the mother of a beautiful baby girl, named Scarlet Starr, and made her acting debut as Mrs Johnstone in the London play Blood Brothers.

Melanie returned to the music scene in 2011 with her fifth album, The sea. She also collaborated with Jodie Harsh, which leaded to the release of the EP
The night.